Pre-Employment Screenings
Substance abuse isn't only a health concern, but a safety issue as well in any workplace. Aculas offers rapid drug screens for urine analysis and lab based drug tests for hair follicle, saliva or nail finger analysis. Rapid drug screen results within minutes and our lab based drug tests provide results 3-5 business days. 
Pre-Employment Physical Exam
Potential employees are examined to determine if they can perform certain tasks without compromising their health. The result of the medical and physical assessment will also give an employer an insight whether a laborer has certain work restrictions that can affect their duties.
Human Performance Evaluation
This serves as clearance for employees, who are assessed to determine if they can perform assigned tasks safely. This may be done either before hire or for those returning to work, to ensure that potential health risks will not affect the rest of the workforce.
This involves testing and documenting the physical ability of either a potential hire or someone returning to work in performing certain tasks. It also includes records of any impairment or injury that had been incurred outside of the workplace.
This exam determines if an employee who was out of work due to an illness or injury is physically ready to perform assigned jobs. This can help an employer assess whether it's appropriate to give a worker tasks within their scope of ability without compromising their health and output.
This includes a series of standardized, physical exams that help determine an employee's ability to carry out activities after an injury or illness. Performing tasks like lifting, pulling, and pushing objects are assessed by a medical professional before declaring if a laborer is fit to work.
When an employee is suspected to be under the influence, a breath alcohol test may be done. Suspicion may be roused if the employee either smells like alcohol or behaves as if inebriated. Random testing may also be performed and may be done during the pre-employment process when needed.
An employee undergoes this type of exam to determine if they are able to go back to work safely after an injury. Safety is ensured as this prevents injuries from reoccurring.
This test will help diagnose and evaluate hearing normalcy or loss to ensure an employee's hearing is up-to-par for the job, for OSHA requirements and for DOT certifications.
Our licensed Chiropractors are here to help with all of your aches & pains. From traditional adjustments to functional rehab, we've got you covered. Questions? Explore our services and FAQs, or schedule a new patient exam.
With a home sleep test we will be sure that employees are getting an adequate amount of sleep. This test will determine if they are needing an assistive device to sleep through the night.
This test will give validation that your employees respirator properly fits. This respirator test is important to ensure the mask fits correctly in order to separate an employee's respiratory system from ambient air.
Employee Warm-up Programs
Make sure the work fits the worker with our employee warm-up programs. We will outline the proper warm-up stretches that an employee needs to be physically ready to do the job.
Quality Consortium Services
Not sure how to randomly obtain drug tests for your employees? We can handle that for you! With our consortium services we will manage when an employee needs to obtain a drug test at random and be sure they are at an interval that makes sense.
Whether you're an employer looking to establish a wellness program for your employees, a driver who struggles with health concerns such as high blood pressure or diabetes, or anyone interested in improving their health through nutrition and exercise- We have a solution for you. 
Hiring shouldn't be a guessing game

The 'can' versus 'should' dilemma: It's easy to say, "I can lift that box," but should they? We can, and should, help you answer that question. By performing third-party employment evaluations, we make sure every employee, no matter the position, is fit to do the job.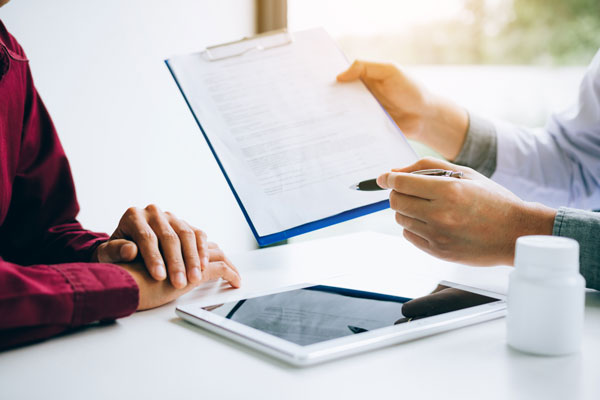 Are your drivers fit to hit the road?

Driving a commercial motor vehicle (CMV) is becoming important for many jobs and companies outside of the traditional semi-truck driving industry. The need for drivers is increasing all the time. So, to make sure drivers are healthy and able to drive these vehicles, the Department of Transportation (DOT) requires a physical exam at least once every other year. This is a great safety check for the driver, your company, and everyone else on the road.
The DOT Physical provides drivers with a medical certificate to confirm that they are physically able to safely operate a CMV. In order to give the 'green light' we take a look at the following areas:
- Overall Physical Evaluation
- Vision & Hearing Test
- Vitals
- Urinalysis
Want to upgrade your pre-employment screening process? Many companies are  looking to the Physical Capacity Profile® for assurance that new hires are physically capable of performing their necessary job duties. The PCP takes 28 strength measurements and generates a robust report that can be used as a baseline, a way to align employees abilities with a specific job, or to provide additional peace of mind.